If you're still tracking manufacturing performance manually you are wasting time and money. Our powerful job-tracking shop floor software gathers and reports data in real-time, so you can update jobs instantly to increase productivity.
HawkPoint Technologies Shop Floor was created out of necessity in the real world on real machines with real results. Now we want to help everyone achieve the same success.
Our shop floor offers several benefits:
1. Reduce human error. Eliminate inaccurate and time-consuming manual data entry. If you're still tracking jobs with Excel, or perhaps even by pen and paper, think of the unavoidable human errors affecting your bottom line. Small mistakes can lead to big problems.
2. Gain visibility to real-time metrics. Our shop floor provides data in real-time. Adjust your jobs instantly to obtain maximum efficiencies, which ultimately increase your profits.
3. Identify trends by jobs, shift or operator. Track performance by job, operator or shift so you can identify trends that help you measure success and identify areas of improvement.
4. Easy to use. Our software is easy to use and features customizable fields. Choose from many downtime reasons, sub-downtimes and multiple types of breaks. Users can log in, log out, change operator during run or setup, query job data from your ERP system and enter comments about the job.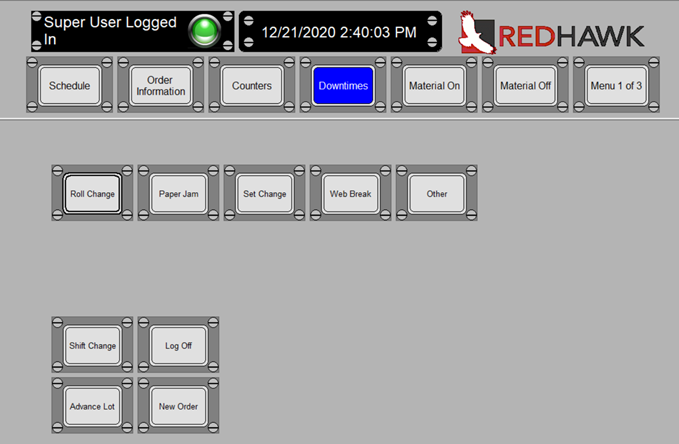 5. Web-based data analytics. Paired with our Reporting Dashboard, management, supervisors and analysts can all share a common view of production in real-time. Access historical data to find underlying trends to identify opportunities for improvement.
6. Streamlines with existing equipment. Our software interfaces with your existing equipment and manufacturing processes.
7. Installation and comprehensive training. After installing the software at your facility, we will provide appropriate training to your team and ensure you're set up for success.
8. 24×7 Support. When you need us, we'll be there. Our expert team is available 24 hours a day, 7 days a week, 365 days a year.
What are you waiting for? HawkPoint Technologies Shop Floor provides an accurate data source to continuously increase your productivity, quality and bottom line results. Check our out on-demand demo videos or contact us and we'll show you how we will benefit your business.